In March 2022, I moved to the east coast of Saudi Arabia for a six-month contract. My family stayed back in London so I was left to my own devices outside working hours. At times it was pretty isolating, but weekends were my own in a way they haven't been in a very long time. It felt like I was in my 20s again, with the freedom to head out and shoot as many of my own photographs as I wanted.
I spent Fridays and Saturdays trying to see as much as I could, trying to get far off the beaten track. I hired a little Hyundai Accent – ​​pretty much the smallest car you can get in a country where everyone seems to own a 4×4 – and drove out on the huge highways traversing the desert, stopping occasionally to hike out into the dunes.
Most of the photographs I took were on the outskirts of towns and cities. The Saudi motorways are huge, with service stations every few miles: like the M1 but with Saudi architectural twists. They're filled with restaurants people in the west would recognize – McDonald's, KFC and the like. But there are also hitchhikers at many of them, something you don't see much of any more in the UK.
I spotted this man as I was pulling out of a service station on one of the huge roads leading to Riyadh, the Saudi capital. It was late morning and it wouldn't have been much below 40 degrees. This was early in my trip and I wasn't sure how he would respond. I'd been told photography wasn't always welcome in the country, so it took me a while to pluck up the courage.
As soon as I did, he was incredibly enthusiastic. His name was Jalal and he came from Sudan. His English was broken, but he was extremely keen for me to take his photo. We chatted away, stumbling across the language barrier, and I was struck by his warmth. Saudi Arabia has a huge diaspora population – Sudanese, Indian, Omani, Bangladeshi, Syrian – and most people I met, including Jalal, loved living there. There was something about the country's flamboyance they seemed to delight in.
I didn't pose Jalal for this photo. I set up my tripod and waited to see how he responded. Working that way allows for an unpredictability that can produce something much more interesting than if I were controlling every element of the image. Seeing him set against these curved lampposts stretching out in the desert, I knew I had the shot I wanted. There is something almost surreal about the image that I like a lot.
Shooting in Saudi Arabia wasn't always easy – but not because of cultural norms but rather the sheer intensity of the light. Smartphones are everywhere – everyone has two iPhones and almost everyone I met was comfortable with having their photo taken. But shooting with such intense light was really difficult and I had to learn to adapt.
In the end, I couldn't give Jalal a lift. I wasn't going as far as Riyadh, but I felt incredibly guilty for leaving him there in the desert. Later that day I saw two more hitchhikers and gave them a lift, partly to assuage my guilt at having left Jalal looking for a ride.
I kept in contact with him though. It's always a worry that you just take someone's photo and bugger off. He gave me his Facebook and I sent him the image. He seemed pretty thrilled. There's a culture of hospitality and friendliness in Saudi Arabia that really struck me. So many of the people I met there are still in touch. Just yesterday, I got a call from a Bedouin I photographed with one of his camels in the desert. He doesn't speak a word of English, but he occasionally calls to chat!
I'm never content with photographing the surface of things. I'm a photographer who researches heavily before most projects. Now I'd like to go back and really get under the skin of the country.
James Deavin is a finalist in the Portfolio category of the Sony world photography awards 2023. The accompanying exhibition is at Somerset House, London, from 14 April to 1 May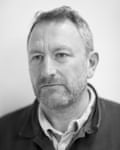 James Devin's CV
Born: London, 1973.
Trained: "As a photographer's assistant in the 90s."
Influences: "So many influences – photographers, writers and otherwise. I do wonder how this work would have gone differently if I hadn't read books by 20th-century soldiers and explorers about Arabia. They got me interested in the desert and who lives out there. Some of those explorers took exquisite photographs, too."
High point: "I've been pretty blessed but still nothing beats finding pictures. God knows why it's so satisfying."
Low point: "You really have to learn young to deal with rejection as a photographer, but it's liberating when you do. Maybe that's a high point though? Learning to stick to your guns."
top tip: "There's no such thing as good and bad photographs, just the ones you remember and the ones you don't."